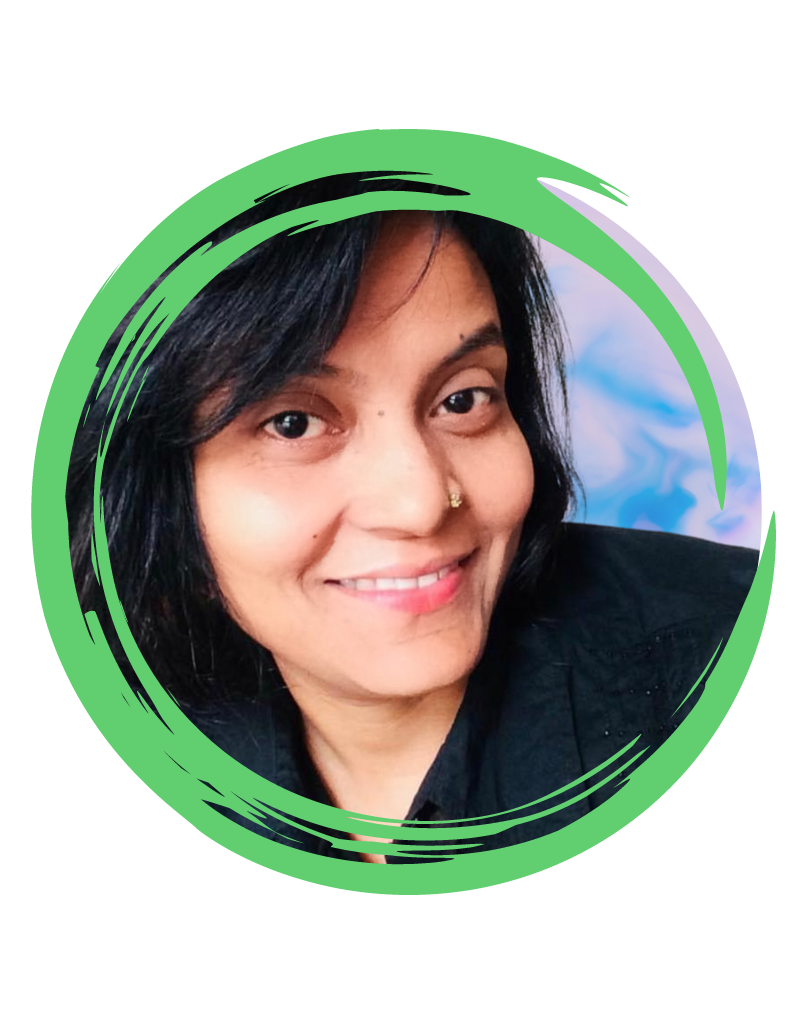 and welcome! I'm so grateful you've landed here of all places!.
I am Dr. Sandhya Pandey
As your health coach, my aim is to help you release what is preventing you from living in accordance with your own objectives for living a healthy and happy life. Because of my knowledge, skills, and experience of more than a decade in the areas of health, exercise, nutrition, and general well-being, I am the go-to person for those who want to make a difference in their life.
I encourage women to consciously let go of their assumed boundaries and gain greater confidence in their potential to effect major positive change in all aspects of their lives. Putting one's confidence in oneself is a great opportunity. Having faith. Slowing down and becoming more visible. Rewriting the story of your life. All you need is the courage to succeed at whatever you may want to. I am here to assist you in fusing your worldly existence with your spiritual side, in discovering the pleasure, prosperity, and freedom that is your heritage. I've only got to say: You could, too, if I can!
My training is as much a journey for my client as much as it is for me. The connection with them as well as their history and growth, enables me to comprehend the consequences of various physical exercises. My approach goes beyond traditional counselling. Self-reflection, dedication, and discipline are required to enhance our health and quality of life. 
As I worked with clients from a variety of backgrounds, I realized that food is not the only nutritional  source that may ensure long-term well-being. We require nutrition at many levels — relationships that feed us, creative endeavors that drive us, people in our lives who support and encourage us, self-care rituals and physical movement, loneliness and introspection, and a professional route that is compatible with our ideals.
Dr.Shweta Dwevedi
My kid was having some developmental issues. I consulted her as she is a homeopathic doctor. I found significant improvement in him with the cumulative effect of her medicine and therapy I was doing at home. I enrolled my son and myself for her yoga sessions too. It's been more than 4 months, and my back and shoulder pain have gone. My body has gained strength and flexibility. My muscles have toned. It is really a very nice experience for me and blessings of almighty that we came in touch with her. I appreciate everything she does and blindly trust her. Thank you Dr. Sandhya for everything.
Dr. Divya Singh, Doctor
You are a great yoga teacher with personalised touch for everyone in need. Very enthusiastic and positive in approach. The learner gets positive energy from you. Besides Yoga, for me you are my spiritual Guru in many ways. I feel very calm in your presence and can see everything with a different perspective. I heal myself as per your guidance. Thank you for always being there for me.
Neera
Four and a half years ago, I attended a yoga camp with Dr Sandhya Pandey on the insistence of my wonderful husband. I was skeptical but went with it. Those 22 days of my life proved to be a turning point for me. During the camp, I shared my problems with Dr Sandhya Pandey. It was almost like she held my hand when I was about to drown. For the first time in 13 years, I had met a doctor, who was ready to listen to me properly. She scheduled sessions with me and started working on my problem specific routine which included yoga, meditation, diet and lifestyle habits. She gently put me on a path of healing from within. The first change was in my outlook and mental positivity. My health started improving and I started feeling happy from outside and within. I can't tell you how much I appreciate her presence in my life. I have found a guru, a mentor and a friend. She's not just a doctor, she is a healer. She gently nudged me towards positive changes in life, never imposing or pressurizing me into anything. Today, if I have an active professional and home life, it is because of my association with Sandhya ma'm.
Jennifer ka
Dr. Sandhya is an incredible & intuitive doctor. I have seen many healers & doctors for my psoriasis, a chronic autoimmune disease that I suffered heavily from for the past years. Not until I met with Dr. Sandhya, was I able to manage flare ups and when it did flare up, her treatment would work miracuously & healed it immediately. She understood what my body needed and what it didn't, in regards to the type of food to eat, lifestyle, and how I have been eating my food. She is also very supportive and has a natural understanding of what is appropriate for you at the right time. I finally have confidence that I can truly manage my skin disease leaving me hopeful, stable, and strong. I 100% recommend Dr. Sandhya to anyone who truly wants to heal.
Deviyani Khanna
Dr. Sandhya is knowledgeable, sensitive and informative. She's very understanding and listens to your concerns and analyzes them. She takes time with the patient to help them with their health issues and keeps motivating them to do better - be it lifestyle change, exercising or medication! She ensures that I am properly informed about my health and care. The treatment, considering it is a mix of Ayurveda and homoeopathy, will take time but will definitely show results. It's rare to find a doctor that combines such personal touches and care for a patient as a person. In short, if you are looking for a doctor, teacher and counsellor, I highly recommend her to anyone. You are at the right place, just be honest with yourself while taking the treatment! 🙂